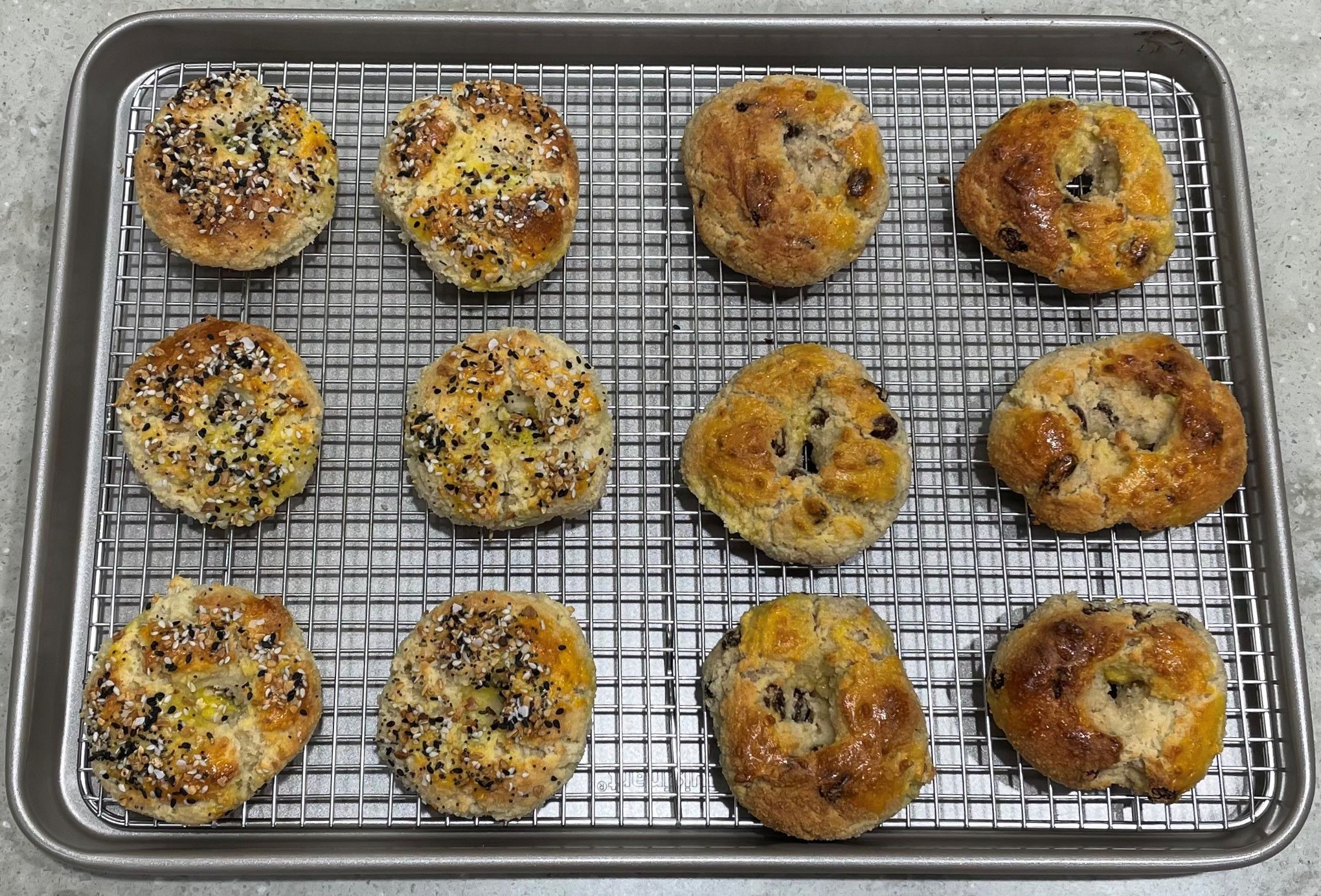 Nurse Kathleen's Almond Flour Bagels
Introduction
This is a base recipe for customizable bagel flavors. You'll be amazed at how pillow-y and light, yet satisfying these are.
Watch her and Dr. Uma have fun creating these delicious and wholesome snacks from scratch here!
Ingredients
  1 egg white (save the yolk)
    1 cup Greek yogurt
    1 teaspoon baking soda
    1/2 teaspoon salt
    1/2 teaspoon apple cider vinegar or lemon juice
    3 cups almond flour
    1 yolk for egg wash
Topping suggestions
    Everything bagel seasoning
    Sesame seeds
    Poppy seeds
    Garlic granules and sea salt
    Rosemary (mixed into dough)
    Cinnamon raisin (1 tsp cinnamon and 1/4 cup raisins mixed into dough)
Preparation
Preheat your oven to 375°F.
Have an oven sheet ready (the above ingredients will create about 6 bagels).  (Either line a sheet with a silicone mat or butter the pan in advance, so that the bagels won't stick to the pan while baking.)
Combine all of the dry ingredients, then stir in the wet ingredients until the dough is uniform in texture and all of the yogurt is stirred in.
Once the ingredients are all combined nicely, take about a palmful of the wet dough into your hand and roll this into a ball (balls can vary in size, but we suggest roughly the size of a golf ball or ping pong ball to start, making them bigger or smaller, depending on your liking).  
Once the ball is formed in your hand, take a finger and poke a hole in the center to create a donut shape from the ball you have created.  (We estimate our recipe will create 6 bagels.)
Place each bagel onto a parchment lined baking sheet. Using a pastry brush, brush the egg yolk over each bagel, then top with the desired topping. The bagels will expand a little as they bake.
Bake at 375°F for 20 minutes or until the bagels are golden and firm. Bigger bagels will need more time.  We recommend checking them about halfway through, to ensure they are not browning too rapidly.  (No need to flip over.).    Once baked, place them on a wire rack (if you have one) to cool, and then enjoy!
NOTE
These bagels freeze well.  To use, pre-thaw the night before by placing them in the fridge.  Then you can slice them open when ready to eat.  We suggest toasting them, just prior to eating.  We recommend doing this either on the stovetop or using your oven's broiler.  (Remember that when using the oven broiler, do not heat these bagels for more than a minute or so as they will burn easily!  Keep a watchful eye on them as they brown!).  If you prefer not to use your broiler, then place each bagel (cut side down) on a skillet or pan and toast on your stovetop, making sure to lightly coat each cut surface with some olive oil, coconut oil, ghee, or butter to help get a nice toasted surface.  (Avoid putting these bagels in a toaster, as the lack of gluten in the flour will cause them to crumble and fall apart easily.)  
Tip: You can split them open and add cream cheese, nut butter, smoked fish, etc. This dough can also be made into dinner rolls. You could add rosemary, thyme, and/or sage if you wish.