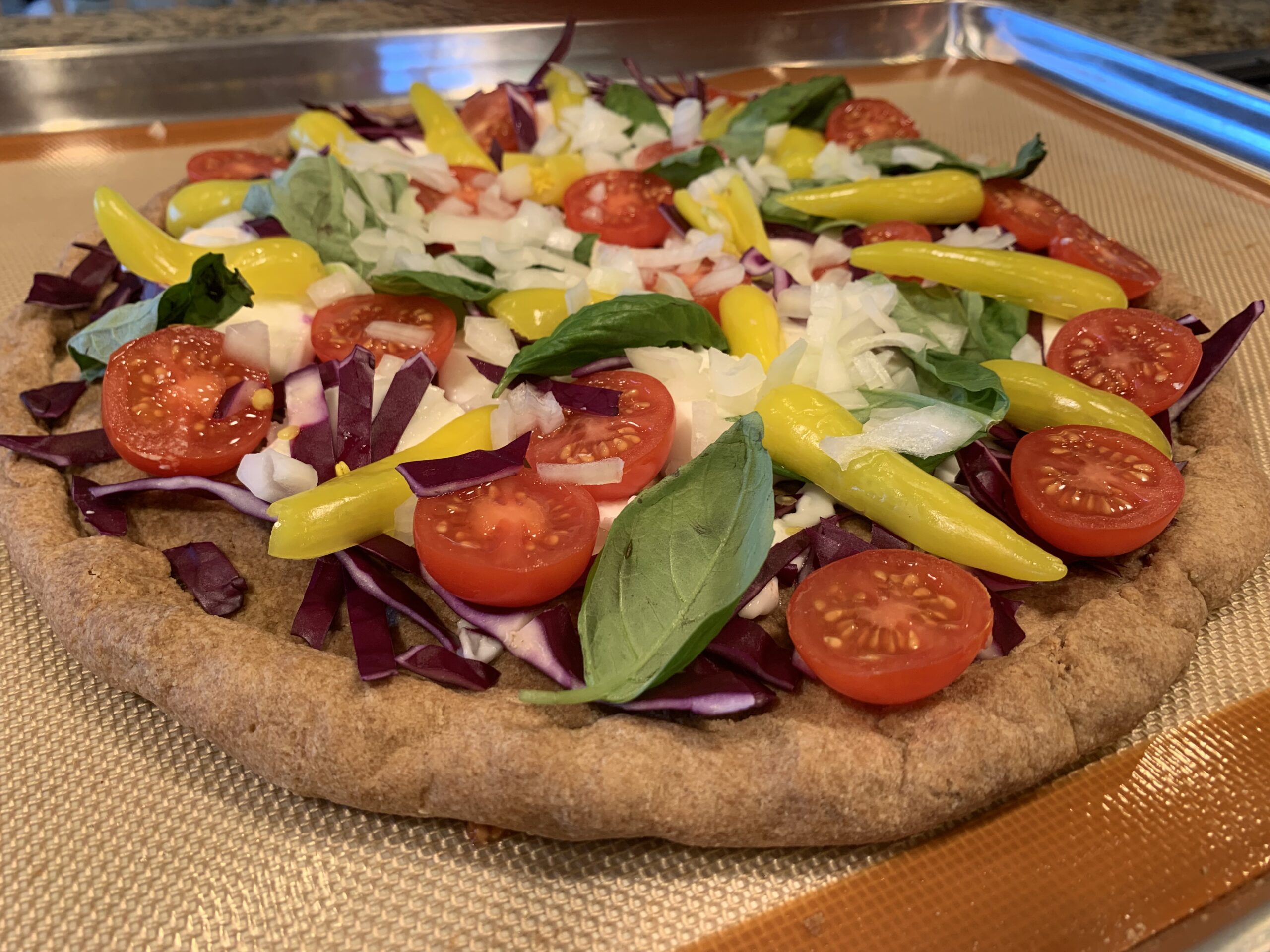 Dr. Uma's Rainbow Pizza
Introduction:
Who says pizza can't be part of a healthy diet?  Here's a way to get all your phytonutrients and tons of fiber, all while having a slice of pizza pie!  The crust recipe was inspired by this site, and can be adapted for vegetarians and vegans.  
Ingredients:
CRUST:
2 cups

almond flour

 

1 teaspoon

baking powder

1/2 teaspoon kosher salt (unless toppings like tomato sauce are salted already)

2 tablespoons psyllium husk powder 

1 tablespoon Avocado oil or ghee or melted butter (choose a fat source that has a moderately high

smoke point

)
TOPPINGS:   Have fun with it and get creative!  You can use any toppings you like, but I typically use these for my "white" and "red" pizzas:
Red
Tomato sauce (unsalted preferred, as the dough will have salt)
Shredded mozzarella cheese
Basil leaves (fresh, whole)
Sliced black olives
Sliced or diced white/yellow onion.
Pineapple chunks
Minced or diced garlic
White
Fresh mozzarella cut into circles and laid out over surface of crust
Cherry tomatoes, halved.
Sliced or diced red onion.
Sliced banana peppers or bell peppers (use different colors for more phytonutrients!)
Basil leaves (fresh, whole)
Optional: Shreds of purple cabbage
Preparation:
 Preheat the oven to 425 degrees Fahrenheit.

 Mix the dry ingredients well.

Mix in 2/3rd of a cup of boiling water.

Stir with a spoon (the mixture is hot!).  Initially, the dough will be very wet and sticky.  As the psyllium "gels" and the dough cools during mixing (will take a mere 1-2 minutes!), the dough will get easier to work with and form a nice workable ball of dough.

When dough is cool to touch, you can work it with your bare hands into a ball and then place it between 2 sheets of parchment paper.  

Flatten the dough into a circular shape using your palms and then roll it evenly into a circle, as best you can.  (Don't worry if it's a little misshapen, as you can fix this with your hands later as you form the crust.)

Once the dough is rolled out as best you can, remove the top layer of parchment paper.

Using your fingers, curl in the edges about a quarter inch and pinch down so as to form a thick circumferential rim around the entire pizza.  As you do this, you can manipulate the shape of the dough into a nice circle.  To avoid my fingers sticking to the dough, I dipped my fingers into some of the ghee.

Slide the dough (on the layer of parchment paper) onto a large baking sheet.

Drizzle the dough with the oil/ghee.

Dock

the crust.

Place the crust on the middle rack in the oven for about 8-10 minutes.  

Let the crust cool before applying toppings of your choice.

Lower oven temperature to 325 degrees Fahrenheit.

Once you've applied the toppings, place pizza back in the oven at 325 degrees Fahrenheit and cook until the cheese is melted, or about 10-15 minutes.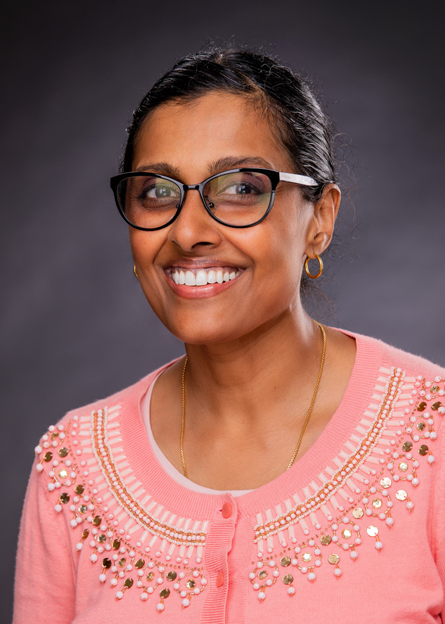 Dr. Uma's "disclaimer" with her recipes:
While I love to eat, I'll be the first to admit I did not grow up a "foodie" nor as a cook.  (In fact, my mom pampered me as a child, cooking for me and barely asking me to lift a finger to help.  I barely had a clue as to how to make rice or tea/coffee until I was well into my thirties!)  And when I finally did start to cook on my own, creating healthy food was my last priority.  In fact, I developed a penchant for baking, and quite clearly remember my "go-to" comfort foods/recipes were apple crisp, lemon squares, and oatmeal cookies!
All this is to say, my interest in cooking has definitely evolved, and I'm still working hard to be an even better cook for myself, for my health, and for the health and wellness of my friends, family, and patients.   So when I share recipes with you here, on this website, it's not to make claims that I am a "super chef" or anything even remotely like that.  It's just to share that if I can do it, anyone can.  
And I don't tend to use precise measurements when I cook at home.  Like my mom, I tend to be somewhat spontaneous as I cook, creating and modifying as I go.  I try to recollect flavorful memories from my childhood, travels near and far, and often "play around" with recipes after "Googling" ideas and ingredients online.
For instance, I shared a recipe for an Ecuadorian travel-inspired avocado chickpea red onion salad here.  I suggested using 3 avocados, but you might like it more or less!  Or, you might like more red onion or no black pepper!  Some of you might like to add in some garlic and/or cherry tomatoes!  Now that I'm typing this….. I'm thinking adding some mint could add a fresh taste too!
One of the best parts of cooking is the fun you'll have learning to experiment.  Half the fun is making edible mistakes and sharing your recipes for helpful hints and collaboration too!
Here's to cooking for health!
Love,
Dr. Uma