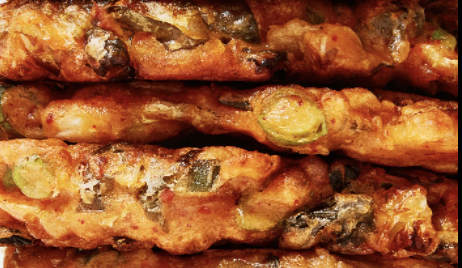 Nurse Kathleen's Kimchi Pancake
Introduction:
This is a great weekday recipe using pantry staples. Dinner is ready in an instant.
Ingredients:
1/3 cup chickpea flour

1/3 cup kimchi

1/2 teaspoon turmeric powder

1 egg

Soy sauce, tamari, or coconut aminos for serving

Optional: green onions or chives, chopped

Coconut oil, for the skillet
Preparation:
Beat all the ingredients together. Add 1-2 tablespoons of water to the batter as needed to thin it out to pancake consistency.
Heat a spoonful of coconut oil to the skillet (cast iron or non-stick works well here) and heat over medium heat until the oil shimmers.
Pour the batter onto the skillet and cook just like a pancake. Flip when you see bubbles on top of the pancake. Cook all the way through.
Serve with a drizzle of soy sauce, tamari, coconut aminos, or whatever you desire. Add some cooked vegetables, such as steamed broccoli, sautéed spinach (with garlic and toasted sesame oil is a great complement to the pancake), or roasted asparagus for a complete meal.
Tip: be sure to buy all of your fermented vegetables from the refrigerated section of the grocery store.
Shelf-stable kraut or kimchi has been pasteurized, which kills the good bacteria.