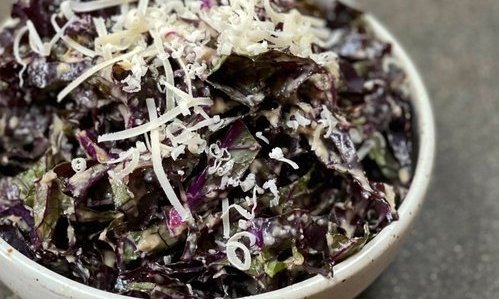 This recipe is from Firefly Kitchens, a regular at our metabolic health and nutrition symposiums. The kraut adds just the right amount of tang to brighten and lighten the creamy Caesar dressing.
Makes 4-6 servings
Ingredients
2 large bunches of kale (lacinato or dino kale is best, curly kale works too)
2 tablespoons Dijon mustard
4-5 cloves of garlic
¼ cup mayonnaise
¾ cup Classic Kraut
1 tablespoon Worcestershire sauce
¼ cup extra-virgin olive oil
⅓ cup grated Parmesan cheese (plus additional for garnish)
Juice of 2 small lemons, about ½ cup
4 anchovies (optional)
salt & freshly ground black pepper
Method
Chop or tear the kale leaves from the thick stalks, discarding the stalks. Tear the leaves into small pieces and put them in a large salad bowl. Set aside.
To make the dressing, whirl all the ingredients except the salt and pepper in a blender or food processor until smooth.
Pour the dressing over the kale. Using your hands, massage the dressing into the leaves until they start to soften, 2 to 3 minutes. You can also accomplish this by tossing the salad vigorously with two wooden spoons. Season to taste with salt and pepper, garnish with additional Parmesan cheese and serve immediately.