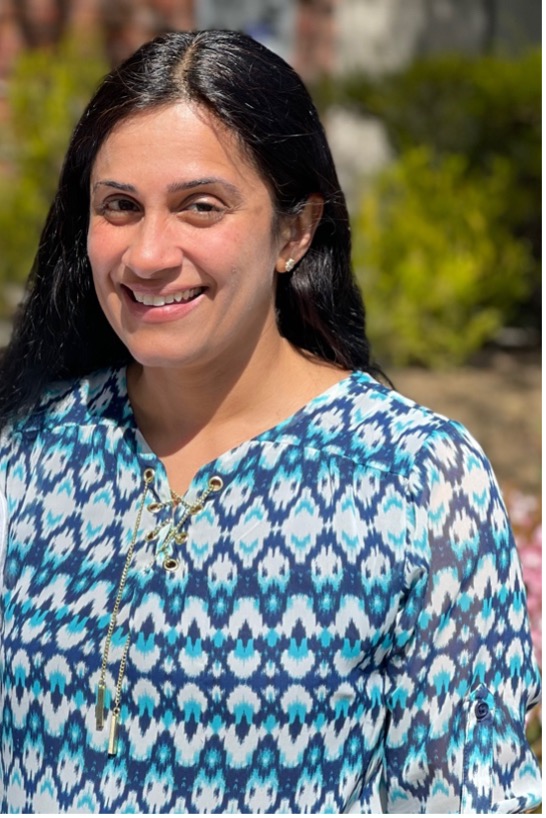 Sri's Story
Have family eating habits changed during Covid-19? 
For better or worse?
by Roberta Ruggiero, Founder and President of the Hypoglycemia Support Foundation and Author of "The Do's and Don'ts of Hypoglycemia: An Everyday Guide to Low Blood Sugar."
Amidst a once in a century pandemic, moms, dads, grandparents, and all of those who have the greatest influence on feeding their families, have been through one of the most challenging and harrowing twenty months of their lives.  Never has the present generation been faced with a pandemic such as Covid-19, where isolation, depression, and hopelessness, not to mention the fear of hospitalization and death, consumed their everyday thoughts. Nevertheless, during these past 20 months of pandemic chaos, protecting their family, especially the children, always remained a top priority.
The medical establishment and the media have helped in one way, giving us facts, figures, and dos and don'ts on how to avoid Covid. From basic handwashing reminders, tips on keeping safe distances from one another, wearing masks, avoiding unessential travel, and of course, vaccinations, we've been constantly reminded of the steps we should take to protect ourselves and our loved ones.   However, very little has been mentioned about the importance of healthy food protecting and strengthening the immune system.  We haven't heard enough about Metabolic Syndrome being one of the greatest risk factors for succumbing to the worst outcomes of the SARS-CoV-2 infection.  In fact, with a CDC report showing that obesity more than triples a child's risk of hospitalization, the pandemic has exposed the serious risks of poor diet. So, what is the real message here? Could it simply be, "just eat real food?"
Sounds simple enough, but after interviewing dozens of parents and grandparents, I realized that what seemed either simple or challenging for some seemed impossible for others. So, for our launch of Pediatric Resilience, I was thrilled and honored to interview a mom who was more than happy to share what worked for her, what didn't, and how she took a negative situation and turned it positive.
Meet Sri Pisharody, the younger sister of Dr. Uma Pisharody. Sri is a software engineer, her husband is a family physician, and they have a 13-year-old daughter, Shreya. Although the pandemic changed their lives in so many ways, Sri says that it could have been much worse if she hadn't already started learning about Metabolic Syndrome and healthy dietary habits from her sister. And if four years ago, Shreya and her classmates hadn't had their chance to listen to a live presentation on healthy foods, many of the healthy habits Sri has been trying to instill in her daughter would have probably been met with more resistance.  During our discussion, Sri vividly recalled the afternoon, back in the spring of 2017, when Wolfram Alderson and Uma visited Shreya's school, along with Uma's husband (Dinesh, also a pediatrician) to give a presentation on the dangers of too much sugar and processed food.
Here is Sri's story.
ROBERTA
Sri, when I offered to interview and write this story, I had no idea you already knew Wolfram, one of the most important people in my life, and that your story includes how much he and his work have also influenced you! So, please, let's get right to the Q & A's. I'm so excited yet anxious to hear your story. But first, can you give me a little background of your family history?
SRI
Yes, thank you, Roberta. My family comes from India; that's where I was born.  We moved to the U.S. during my infancy, and I completed most of my schooling in northern California. As a teenager, I returned to India, where I lived and studied for over a decade.  So, much of my upbringing was in a rather traditional Indian culture. I finally did return to the U.S. after completing my graduate schooling in India.  Initially, we lived in New Jersey, where I trained to become a software programmer. Later, after I got married and we had a daughter, Shreya, who is now 13 years old, we settled in central California.  My mother lives nearby, and we see her often.  While both my husband and I have full-time jobs, we try to balance it by working hard and taking time out to play hard as well.  Most of what we do outside of work revolves around my daughter and her activities.  When it came to cooking for my family, I was used to making the foods that I grew up with…. mostly vegetarian dishes cooked in the traditional styles of South India.  Most of the curries I cooked were eaten with rice or traditional Indian breads like chapati. Since the food was fresh and mostly homemade, I just assumed everything we ate was healthy.  I also bought boxed cereals sometimes, along with granola bars, crackers, and even flavored yogurts, thinking these were also healthy options. It never dawned on me that I had to read all the food labels. And I wasn't even sure of what to pay attention to when reading those labels. I have now realized that we were eating a lot more starch and sugar back then—lots of flour, bread, pasta, noodles, and desserts.
All that gradually began to change as I heard from my sister about her medical practice and what she learned from Dr. Lustig's work.  And then, that day in 2017, when Shreya was just in the 4th grade, Uma, Wolfram, and Dinesh came to her school and taught everyone, from the principal to the teachers, students, and their parents, about the real dangers of eating too much sugar, and how harmful processed foods can be to our health, especially the liver. I believe what I learned from their presentation, which was based largely on the teachings of medical experts and scientific researchers like Dr. Lustig, is about how toxic sugar can be, especially to young children's bodies and minds. That was a genuinely life-altering message. Lots of jaws dropped in the hall that day as we were shown what a fatty liver looks like, and like me, everyone at the school was so grateful for the practical, hands-on science lesson shared that day. It was a bit jarring, scary, and perhaps even shocking to hear how dangerous processed food can be. Still, we also felt empowered to go back to our homes and make meaningful, everlasting changes to how we approached feeding our families. More than anything, we were thankful for this eye-opening presentation.  Many moms like me were inspired to go home that day, vowing to try and change the way we shopped, cooked, and served food for our families.  I am convinced that, without a doubt, the important lessons I've learned through following Uma's work at Swedish, and the powerful information I've read in Dr. Robert Lustig's book, Fat Chance, have significantly impacted the way my family and I have weathered the Covid-19 pandemic.  At least as far as having the right tools when it comes to eating for health, I feel that we have been given the proper knowledge to address metabolic risk factors that can worsen our health outcomes.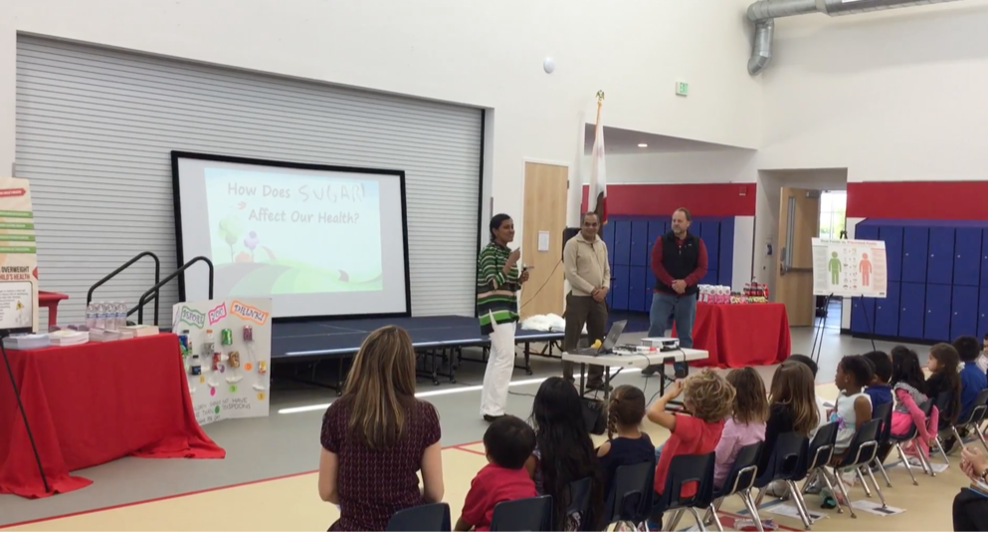 Dr. Uma Pisharody, Dr. Dinesh Thekke Karumathil, and Wolfram Alderson teaching at Shreya's school (April 2017)
ROBERTA
Wow, that sounds it was a great experience, Sri!  You're saying that three tools led to your success during the COVID-19 pandemic: education, preparation, and application!  Can you expand upon that and provide some specifics?
SRI
Absolutely.  Well, you, Roberta, just stated it beautifully!  Those three words powerfully explain how a family can learn the importance of food as nourishment, comfort, and medicine!
Let me start by clarifying that changing my food habits, the food habits of my family, didn't just happen overnight.  We made gradual changes, and it's still a work in progress.  (Just ask my sister, who still finds things she'd like me to throw out of my pantry, each time she comes to visit, ha!)  First, I had to evaluate what I was eating and how/where I was shopping and cooking. Then I had to compare this to what I should be doing: learning which foods to eliminate, which foods to eat less of, and how to reduce some of our "bad" habits around meals and mealtimes. This was followed by introducing more best practices and best foods to help us improve our metabolic health and immune systems.
I found it easiest to start with breakfast.  I certainly didn't want Shreya rushing out of the house or starting her day with a bowl of boxed cereal or a sugary treat in hand.  So now, in my house, I'm trying to make more breakfast omelets or burritos.  Otherwise, when we're short on time, I at least offer an apple, some berries, or nuts for breakfast, along with some cheese or a cup of milk.  We stopped the flavored milks, yogurt drinks, and juices and largely replaced the bread and toast with pancakes made from almond flour.  We buy nut butters with no added sugar, and if we make a peanut butter and jelly sandwich, for example, we use only a tiny spoonful of my mother's homemade plum jam (Shreya's favorite, in fact!). We've also swapped out the boxed cereals for whole grains like steel-cut oats whenever possible.  Last week, during an especially rushed morning, I remembered Shreya calling to me upstairs that we were getting quite late for school. There was hardly time to eat breakfast, let alone for me to cook something. I was so proud when I came downstairs to find Shreya putting together her breakfast that morning:  a handful of grapes and cashews (her favorite nut), a few cubes of cheddar cheese, and a glass of milk. The phrase "lead by example" was paying off!
I usually try to pack everyone something from dinner leftovers for lunch, but it's not a perfect system, and I'll be honest, I don't do it every night.  I've learned to tell myself that's okay and cut myself some slack.  After all, no one is perfect, and nothing in life can be done perfectly. I remind myself that what counts most is what we can achieve 75-90% of the time.  So, I set myself up for success by setting goals that are doable and sustainable. We all deserve to take a little break now and then again. So now what I do, is make the healthiest meals I can think of, at least three or four days per week.  I take advantage of planning ahead, prepping meals in advance, cooking in large batches, using leftovers for other meals to last the rest of the week. The other days, I pray my family makes the right decisions, when they must choose from options offered at school or work, or when we are out and about during vacations and other events.
As far as dinners go, I love to make lentil soups often, as they are a rich source of fiber and protein and quite filling! Using traditional Indian recipes for dal, these can be quite delicious and satisfying as well as healthy!  I can now make chapatis using flours like jowar (sorghum), and I also try to replace white rice with quinoa or brown rice as much as possible.
When it comes to desserts, we usually keep these to a minimum, understanding that kids want a sweet treat now and then again.  So, we make exceptions for special days.  I'd rather take the time to bake or cook with Shreya than run out to a bakery or store to buy a readymade sheet cake. That being said, sometimes I end up buying something in a store and tell myself not to feel guilty because, again, it's about what I can do 90% of the time that matters the most.  No one is perfect!  Most days, to satisfy our sweet cravings, we snack on berries, grapes, even 70% dark chocolate.  Shreya loves watermelon, cantaloupe, and honeydew melon!  Sliced Gala apples and popcorn are also a go-to treat in our house.  Both go great with peanut butter!
I've come to learn that changing one's eating habits is a journey. And as important as it is to learn everything you can, to increase the metabolic health of those you love, it's just as crucial to feed them mentally and emotionally.  Even though my family and I might have had it easier than others during this pandemic, it still pained me when I saw my daughter having a rough time being isolated. School was on hiatus, school activities were canceled, and socializing with her friends went from playdates and daily school interactions to seeing them only on Zoom or Facetime, if even that. For Shreya, who is by nature a very social child, this was a huge adjustment. Not being able to go out and meet friends and classmates in person took a toll on her mental health.
The pandemic and its lockdown improved our ability to bond as a family, though, and we were able to spend more time cooking together. We ended up eating far less outside our home, so we had more control over what we chose to eat.  So at least in that regard, the pandemic allowed us to spend more time in the kitchen, trying out new recipes and improving upon the dietary habits we had already started to change before Covid-19 struck.  We also started gardening more in our backyard!   We realized that when we ate more fruits, vegetables, nuts, beans, lentils, we felt full enough to crave less rice, pasta, bread, and noodles!
That being said, it's still a work in progress.  We're all still in it, together.  I guess my biggest takeaway from the last one and a half years of the pandemic lockdown is that we can set good examples for our children by eating healthfully and mindfully ourselves.  And we need to take the time to explain our decisions and choices around meals so that our children understand why we're doing what we're doing. If we guide our kids to follow in our footsteps, they will hopefully find the motivation to keep walking the path, even when we are not around!
ROBERTA
Thank you so much, Sri, for opening your heart and soul for our Pediatric Resilience audience!  We hope that by reading your story, and your experience of getting through the Covid-19 pandemic, our readers get at least a small glimpse into how you and your family are not only surviving but thriving!
We welcome other parents and grandparents to share their stories with us. We're open to hearing any point of view that helps us learn how your family deals with the highs and lows, the ins and outs of feeding a family in today's world.