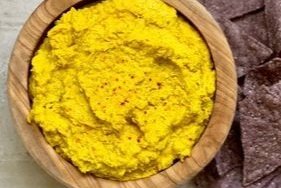 This hummus makes a unique and tasty dip that will leave people wondering how to achieve this depth of flavor. The turmeric and tahini create an earthy undertone, while the kraut, ginger and lemon juice brighten each bite. We especially love the gorgeous yellow this hummus takes on from the anti-inflammatory turmeric.
Ingredients
2 cups cooked chickpeas
1 cup Emerald City or Classic Kraut, drained and loosely packed
⅓ cup tahini
¼ cup fresh squeezed lemon juice
3 tablespoon extra virgin olive oil
2-3 cloves garlic
1 tablespoon ground turmeric
1 teaspoon ground ginger
1 teaspoon each salt & pepper (use our Emerald City Salt if desired)
Method
In a blender or food processor whirl all ingredients until smooth. Add a bit of water, brine or oil if needed and adjust the spices to your liking. It's that simple!