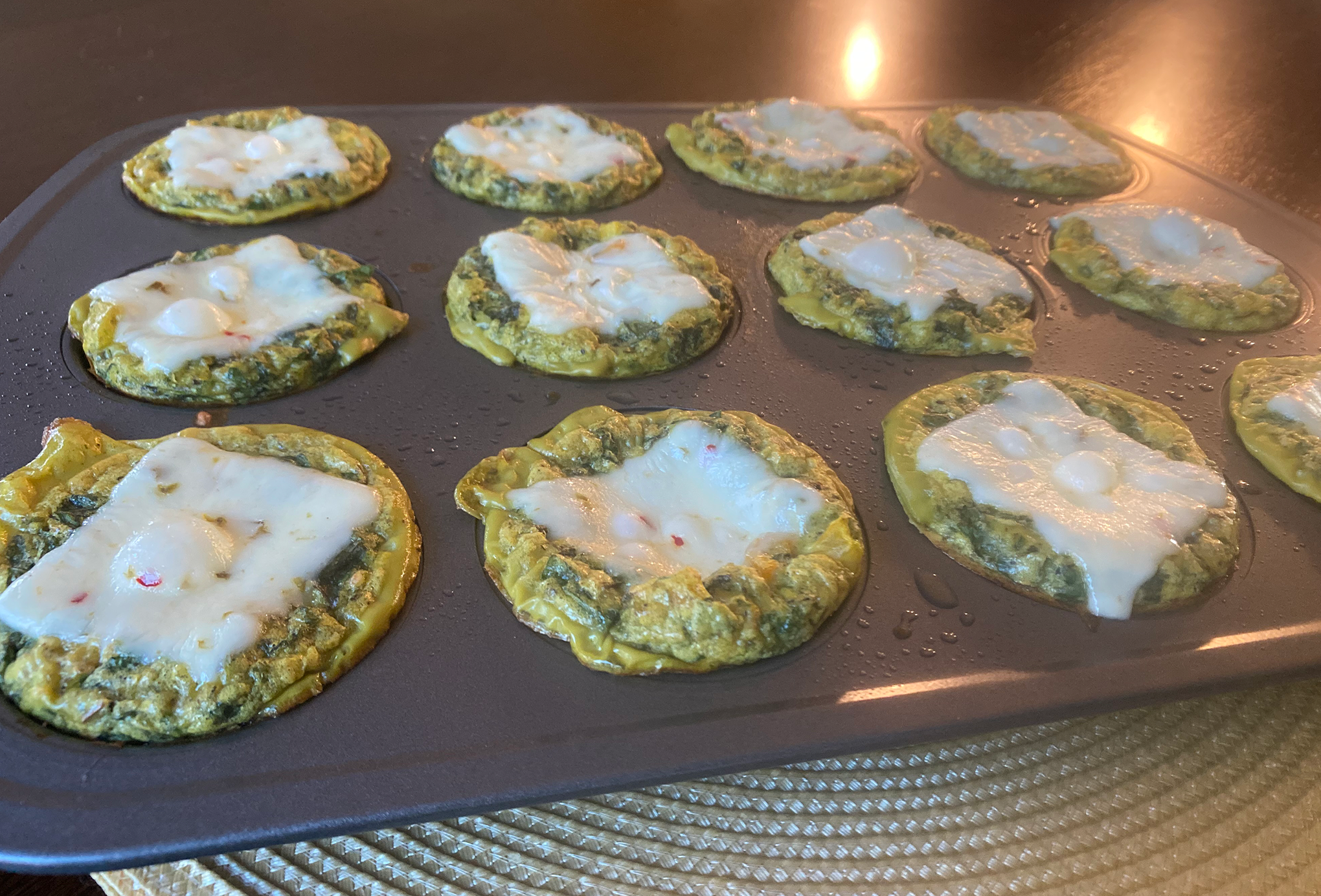 Veggie Egg Bites
Introduction:
Sri, Dr. Uma's sister considers this a breakfast staple in her home.   She describes it as an easy-to-make breakfast amenable for prepping ahead of time, baking in large batches for an entire week.  It's also full of protein, which makes it deliciously satisfying too.  Plus, these egg bites are easy to pack and carry, serving as a quick "pick me up" snack, any time of day!
Ingredients
      8 eggs
      1/2 cup diced red, orange bell pepper
      1 cup finely chopped fresh swiss chard (or spinach)
      1 tsp garlic powder (or diced fresh garlic)
      1 tbsp black pepper powder
      1 tbsp herbes de provence (or any herbs of your choice)
      1 tsp sea salt
      ¼ cup almond milk, unsweetened without emulsfiers
      ½ cup ricotta cheese
Optional:  Some slices of your favorite cheese (e.g. pepper jack or cheddar are our favorites!)
Note:  Feel free to add different colorful vegetables of your choice (diced small to allow for even cooking) to make your egg bites even more colorful and flavorful. 
Preparation
    Preheat oven 350°F
    In food processor or in a bowl, whisk the eggs, ricotta cheese and almond milk into a frothy, creamy batter
    Next add all of the remaining ingredients and give a quick whisk to combine everything together
    Grease a muffin tin with oil
    Pour batter mixture almost all the way full into each muffin well 
    Bake at 350°F for approximately 15-20 minutes until the egg bites have risen, and look fluffy.  The egg bites should feel slightly spongy and firm when pressed.  
Optional:  Shortly after pulling the muffin pan out of the oven, top each with a small slice of your favorite cheese.  This way, the cheese will melt evenly while the muffins are still piping-hot.
    Let them cool slightly before running a knife around each egg bite, to extract them smoothly from the pan.
  Top with some fresh cracked pepper, homemade chutney or tomato sauce and enjoy!