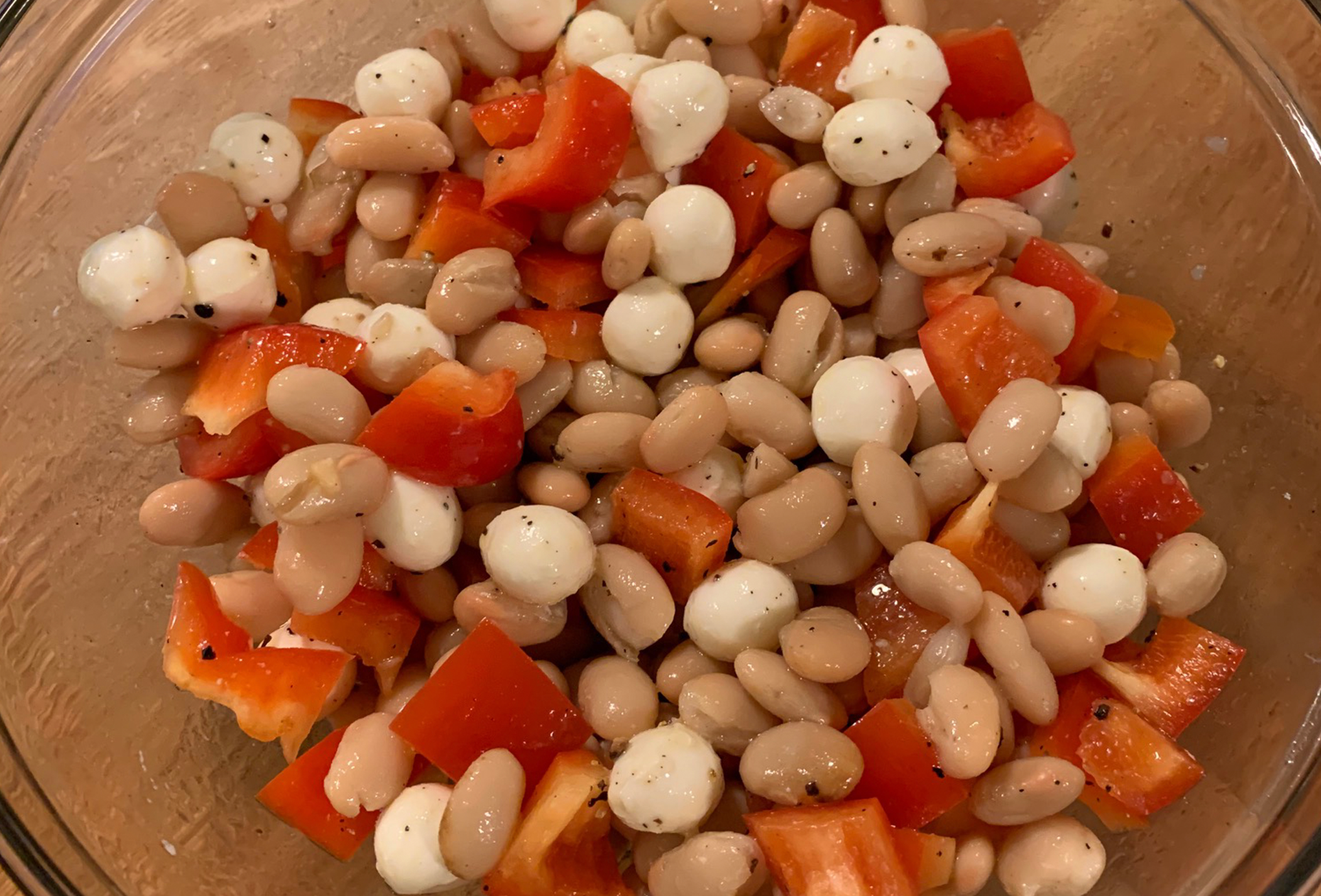 Introduction 
The beauty of this recipe is that you don't really have to measure anything. You simply prep and combine ingredients in a bowl and enjoy. And because it has protein (beans and cheese), healthy fats (olive oil and cheese), and fiber (beans and bell pepper), it's a complete meal all on its own!
Ingredients
1 can cannellini beans, rinsed and drained

1 red bell pepper, diced

½ cup to 1 cup of fresh whole milk mozzarella*, drained

A generous drizzle of olive oil (~1 Tablespoon)

The juice of half a lemon

Salt to taste (start with 2 pinches of sea salt or kosher salt or ¼ teaspoon table salt)

Freshly ground black pepper to taste
Optional mix-ins
Tomatoes

Cucumbers

Parsley

Sun-dried tomatoes

Artichoke hearts

Olives

Avocado

Yellow, orange, or green bell peppers

Capers

Shredded carrots

Sautéed zucchini
 Alternative dressings
Pesto

Olive oil and vinegar

A good quality vinaigrette dressing, preferably home-made.

(If buying a vinaigrette, look for a short ingredient list, ingredients you recognize and would cook with yourself, olive oil or avocado oil, and no added sugar or juice.)
Preparation
Mix all ingredients in a bowl. Serve immediately or chill first.
*Fresh mozzarella comes in several sizes and is packed in a brine (salt water). Perle and Noccioline versions are bite-sized already and will save you time. Ciliegine should be halved. Larger sizes of fresh mozzarella can be cut into bite-sized cubes. 
In a pinch? You can easily substitute mozzarella string cheese, cut into cubes, or another cheese all together. Whatever form you buy, make sure it's made from whole milk for its satisfying healthy fats.