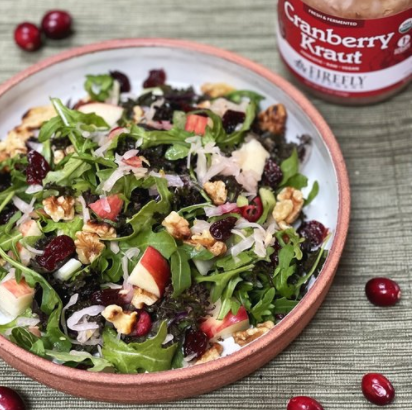 Waldorf Salad
Ingredients
½ cup walnuts
1 tablespoon Cranberry Kraut brine
1 teaspoon lemon juice
⅓ cup olive oil 
Salt & pepper 
¼ cup crème fraîche or sour cream
1 cup Cranberry Kraut, roughly chopped
2 medium apples cored and chopped or julienned
½ cup chopped celery
½ cup dried tart cherries or raisins
Method
Preheat the oven to 375 degrees F. Toast the walnuts in the oven for 8 minutes. Allow nuts to cool, then chop or coarsely crumble them. 
To prepare the dressing, mix the brine with the lemon juice, some salt and a generous amount of fresh ground pepper. Whisk in the olive oil and then the creme fraiche or sour cream. Taste and adjust the lemon juice and salt as desired. 
Toss the kraut, apples, celery, cherries or raisins and walnuts with the dressing. Let the salad sit for 5 minutes, taste again, adjust the seasoning as needed and serve. We like to serve it atop a bed of greens.
​